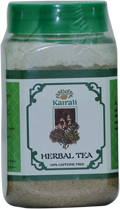 Kairali's herbal tea is its own proprietary product. KAPPL brings for you carefully crafted caffeine-free aromatic and delicious tasting teas made from herbs and spices, which help to balance the five elements and improves digestion, metabolism and mental harmony.
Kairali Herbal tea is free of any side effects and can be taken during meals, between meals, or any time of the day.
You can enjoy this unique blend of herbs and fruit spices which relaxes you while providing you with numerous health benefits at any time of the day. It is a natural concoction with no additives, preservative or caffeine and is loaded with vitamins and anti-oxidants; giving you a delicious and healthy alternative to regular tea.